Wheels-993 Tramont Cup 2 Complete Set Front 8.5"x 18"-ET42 & Rear 11"x18"ET40 Silver,Dark Gray or GT2 Medium Gray 993 C2S,C4S & Turbo Wide Body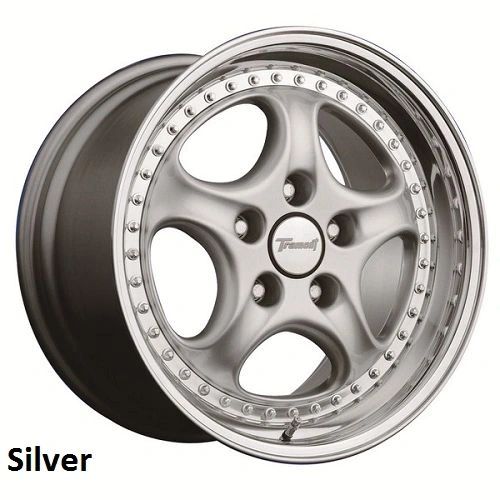 Wheels-993 Tramont Cup 2 Complete Set Front 8.5"x 18"-ET42 & Rear 11"x18"ET40 Silver,Dark Gray or GT2 Medium Gray 993 C2S,C4S & Turbo Wide Body
Tramont Cup 2 Wheels are a high quality 3 piece wheel that is licensed by Porsche AG. These model the original  "Speedline" that came on the rare 993 RS.
  Specifications- Front 8.5"X18"ET42 & Rear11"x18"ET40. Complete Set(4) for Wide Body 993  C2S,C4S and Turbo with Red brakes (* Each customer will have their order gone over by a "Real Person" before  their wheels are custom built for their car and brakes can change offsets so choose choose correct brake color when placing order but will be confirmed in personal review of the order )Center Caps not included but the stock Porsche Center Caps will fit .Wheel Colors available - Silver,Dark Gray, and  OPTIONAL GT2 Medium Gray.$400 Option*** If choosing GT2 Medium Gray ,the stock Porsche Center caps will not match .The matching caps are an option ($500.00) . Choose color when placing an order  .Proper tire size Front 235x40x18   Rear 295x30x18

*** NEW*** FREE SHIPPING ***-Shipping from France direct to the customer * Shipping Price includes money transfer fee to France BUT both wheel and shipping cost are in constant change due to the constant changing value of the US dollar and Euro so there may either be additional funds required or a refund may happen. The customer will be required to pay import tariff to shipper DHL or Fed X (usually around $150.00 for set of 4 wheels). We now offer an option that cost $300.00  for a complete set of 4 Tramont wheels that eliminates the customer from any US Customs paperwork and pays the import tariff for the customer.. Werks911 becomes the "importer of record" and pays the import tariff and do any/all paperwork for the customer but still have the wheels delivered direct from France to the customer. This is done in order to not have to re-ship from Werks911 which would be expensive ..We made this an "OPTION" because many Porsche owners are very motivated to save money and have experience with importation of car parts from Europe and US Customs paperwork.If you do not want Werks911 to do this service please check the box in this option NO. The main problem happens when US Customs thinks you are importing a car instead of a set of wheels and trying to contact them to fix this mistake can take a lot of time, especially now with the virus.
 - For a great source of tire sizes with a certain wheel size http://www.rimsntires.com/specspro.jsp
*All wheels are custom matched to your car before any set of wheels is shipped. Brakes types can make a difference.in final difference in offset .
Choose Color- Silver, Dark Gray or GT2 Medium Silver for an additional charge* Does not include center caps but stock Porsche center caps fit.