Wheels-993 Tramont Cup 2 RS (Speedline Style) 8.5"x18"-ET 42 Silver, Dark Gray or GT2 Medium Gray (Front Single Wheel) 993 C2S,C4S,Turbo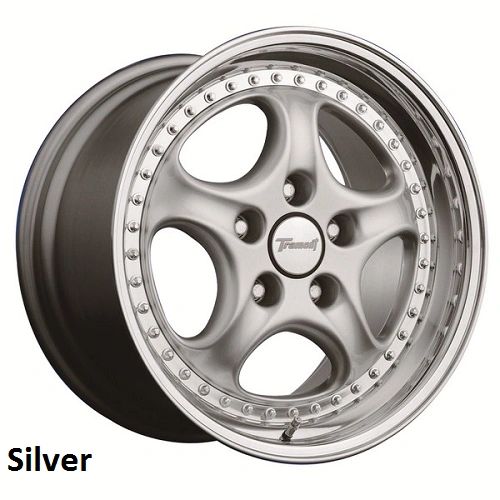 Wheels-993 Tramont Cup 2 RS (Speedline Style) 8.5"x18"-ET 42 Silver, Dark Gray or GT2 Medium Gray (Front Single Wheel) 993 C2S,C4S,Turbo
    *** Each order is reviewed and personal contact  will be made before any order is processed to make sure the size is correct for the customer's version of 911 ***                                                                                                                                                                                                                                                                                                                                                                           Tramont Cup 2 Wheels are a high quality 3 piece wheel that is licensed by Porsche AG. These model the original  "Speedline" that came on the rare 993 RS.
#993TCS8.51852  Specifications- 8.5"X18"ET42 for Turbo and C2S C4S for the front (* Each customer has their wheels custom built for their car and brakes can change offsets)  .  Weight- 26 lbs.  Fitment- 993, C4S, C2S and Turbo Front.  Recommended Tires Size- 235X40X18. Color- Silver,Dark Gray, and  (GT2 Medium Gray as an add on option)     .

***Price includes shipping from France to Customer address  and includes money transfer fee to France BUT both wheel and shipping cost are in constant change due to the constant changing value of the dollar and Euro so there may either be additional funds required or a refund may happen. Customer will be required to pay import tariff to shipper DHL (usually around $150.00 for set of 4 wheels). We offer a service of experience in  dealing with Tramont and International transactions .  Depending on the valuation of the  US Dollar there maybe either extra funds due or a partial refund is made. It is complicated this way but very fair.
 - For a great source of tire sizes with a certain wheel size http://www.rimsntires.com/specspro.jsp
*All wheels are custom matched to your car before any set of wheels is shipped. Brakes types can make a difference.in final difference in offset .
Choose Color- Silver, Dark Gray or GT2 Medium Silver for an additional charge* Does not include center caps but stock Porsche center caps fit.