Wheels-964 Tramont Cup 1 RS (Speedline Style) 9.5"x18"-ET47 Silver (Rear) 964 NB C2,C4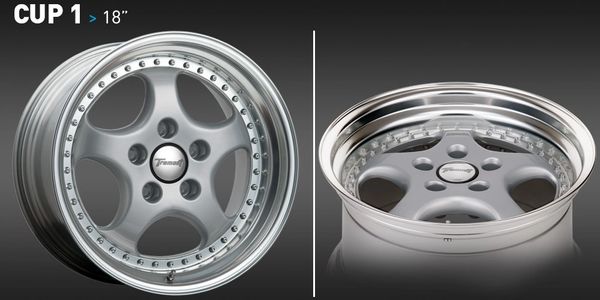 Wheels-964 Tramont Cup 1 RS (Speedline Style) 9.5"x18"-ET47 Silver (Rear) 964 NB C2,C4
Tramont Cup 1 Wheels are a high quality 3 piece wheel that is licensed by Porsche AG. These model the original  "Speedline" that came on the rare 964 RS.
  Specifications- 9.5"X18"ET47.  .  Fitment- 964 Narrow Body (NB) C2, C4, Rear.  Recommended Tires Size- 265X35X18. Color- Silver. 
Shipping from France to Customer (Business Address) * Shipping Price includes money transfer fee to France BUT both wheel and shipping cost are in constant change due to the constant changing value of the dollar and Euro so there may either be additional funds required or a refund may happen. Customer will be required to pay import tariff to shipper DHL (usually around $150.00 for set of 4 wheels). We offer a service of experience in  dealing with Tamont and International transactions .  Depending on the valuation of the  US Dollar there maybe either extra funds due or a partial refund is made. It is complicated this way but very fair.
 Color- Silver * Does not include center caps but stock Porsche center caps fit.