Tools-NES Internal Thread Repair Kit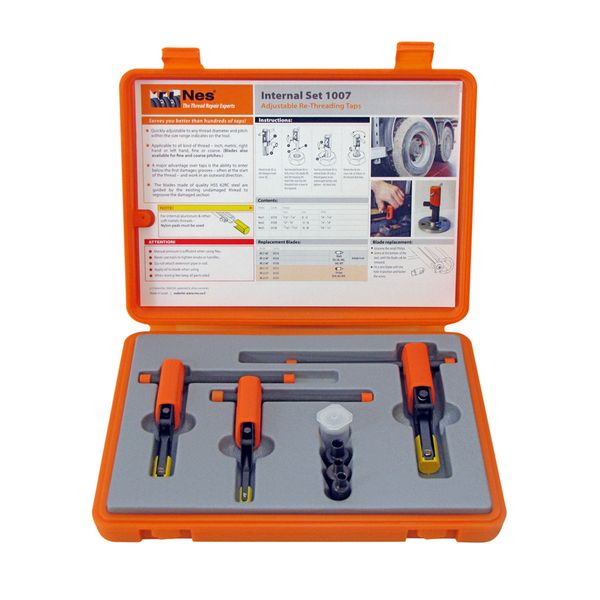 Tools-NES Internal Thread Repair Kit
---
DESCRIPTION
Replaces a huge array of taps and dies for cheaper and faster maintenance
One hand tools restores inch or metric, right or left-hand fastener threads
Self-adjusting to any pitch and size within range
No need for calibration or identifying thread type
---
PRODUCT SPECS
ITEM #
LENGTH
SET TYPE
INTERNAL DIAMETER

LBS

NES1007
NES21, 22, 23
Internal
5/16" - 13/16"

1.80

NES1008
NES21, 22, 23, 24
Internal
5/16" - 1.1/4"

2.90

NES1036
NES24, 26, 2 Sleeves
Internal
7/8" - 2.5/8"
---
NES THREAD REPAIR
Introducing a solution to one of the most common and frustrating reoccurring problems in working with fasteners – Stripped and damaged threads. both external and internal stripped pipe threads and eliminate the need for an extensive collection of taps and dies. There is no need to determine bolt size, depth, and pitch. The tools work with standard or metric, and right or left hand threads. In addition, they can repair threads that are at the beginning of a nut or bolt, whereas taps and dies are not able to perform that function.

The outstanding innovation of these hand tools was recognized and received an 'Editors Choice Award' from "Popular Mechanics" at the 2010 AAPEX Show in Las Vegas, Nevada. The award was given for "outstanding achievement in new product design and innovation". The show featured over 1000 vendors displaying their products related to the automotive aftermarkets.