Tools-Grip on Adjustable Locking Pliers Hands Free Set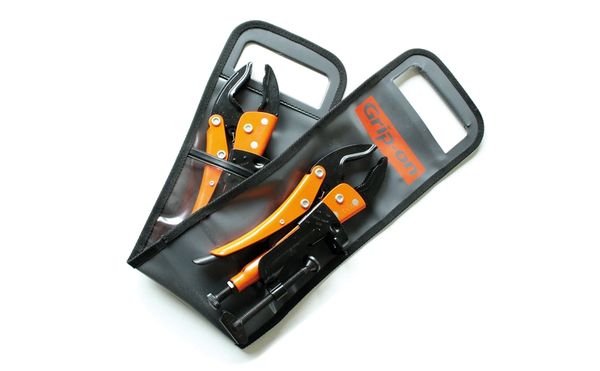 Tools-Grip on Adjustable Locking Pliers Hands Free Set
DESCRIPTION
Contains 2 locking pliers and a convenient storage pouch
Grip Holders adjust quickly and firmly to any work table
Omnium Grips slide securely into Grip Holders, forming a portable vise
Allows firm grip on pipes, rods, or other workpieces for gluing, cutting, welding, drilling, etc
---
PRODUCT SPECS
| ITEM # | LENGTH | FINISH | JAW TYPE | CAPACITY | LBS |
| --- | --- | --- | --- | --- | --- |
| GRHFKIT | 5" | Epoxy | Straight | 1.1/8" | .40 |
---
GRIP-ON PLIERS & CLAMPS
GRIP-ON is the premier manufacturer of high quality professional locking pliers in the world. Manufactured in Spain, GRIP-ON uses sophisticated modern machinery, tooling and technology to produce locking pliers the highest standards.

GRIP-ON produced in-house to ensure maximum efficiency and productivity using advanced computers and software. Only the finest raw materials are used in the manufacturing of GRIP-ON furthering the reputation of GRIP-ON as a premier leader in the hand tool industry.

Epoxy resin can now be found on most GRIP-ON products. Epoxy is approximately 10 times more corrosion resistant than nickel and provides greater electrical insulation than nickel or chrome plating. The orange epoxy finish allows for greater visibility in the workplace, preventing loss or injury and adds the benefit of being more environmentally conscious compared to nickel or chrome.