Exhaust-964 Turbo 965 Sport Performance Package with Tips - Polished Chrome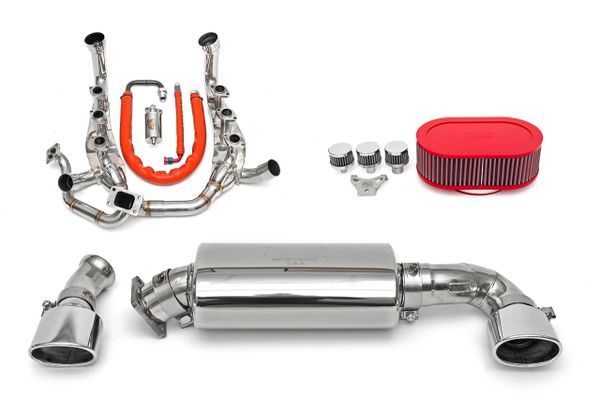 Exhaust-964 Turbo 965 Sport Performance Package with Tips - Polished Chrome
Complete high-performance exhaust & intake solution 
Fits all Porsche 964 Turbo 965 vehicles (1990-1994)
Dramatic improvement in horsepower and torque throughout the RPM range
Constructed from high-quality, 14-16 gauge C.N.C mandrel bent T304L stainless steel
Maxlfo mufflers are radius stress relieved, hydro-formed cases that are pulse TIG welded with 2000 degree ceramic fiber and stainless steel wool packing
Sport Headers with heat feature C.N.C mandrel bent equal length primary pipes, F1 style high-velocity 3-into-1 pyramidal investment cast merge collector
This system will include a drip accumulator with double swivels and Aeroquip lines with adaptors, plus graphite steel layered gasket for a leak proof seal
7/8"custom braided oil lines with correct 30mm radius Porsche style ball end with OEM fittings will be included to replace the stock oil lines.
Stainless steel heater boxes include additional piping to run heat into the cabin.
Cold Air Intake Kit improves induction into the intake manifold and is a direct replacement for the large, restrictive OEM metal intake box and filter.
Direct replacement for the OEM muffler and catalytic converter assembly.
                ...