Interior-911/930 Aluminum Adjustable Gas Pedal With Rubber Grip Pedal Covers 4 Piece Set For Right Hand Drive Coupe Only 1974-89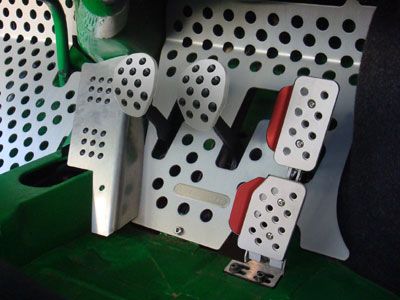 Interior-911/930 Aluminum Adjustable Gas Pedal With Rubber Grip Pedal Covers 4 Piece Set For Right Hand Drive Coupe Only 1974-89
This pedal cluster is fully adjustable in any direction, not only for height and depth, but also laterally and angularly. No more problems with  heel-and-toe or more catching the edge of the brake pedal as you transition from the gas.

All billet aluminum and 300 series stainless steel construction
Spring loaded hinge for quick throttle return with long life bushings
Dramatically improves heel and toe driving by allowing for individual driver ergonomic adjustments
Completely replaces factory gas pedal
Steel spherical rod end and throttle linkage shaft that utilizes OEM linkage and allows adjustment for quicker ratio throttle angle
1.25" of height and 1" of side to side adjustment
Removable and adjustable throttle extensions
Built in adjustable throttle stop
Pedal covers are available in black and silver-Choose option
Pedal extensions available in red, black or silver-Choose option
Rubber grips are removable to give you a smooth pedal surface if desired
Does not include back panel. Sold separately.