Engine Components-911/964/993 Billet Aluminum Heads 1978-98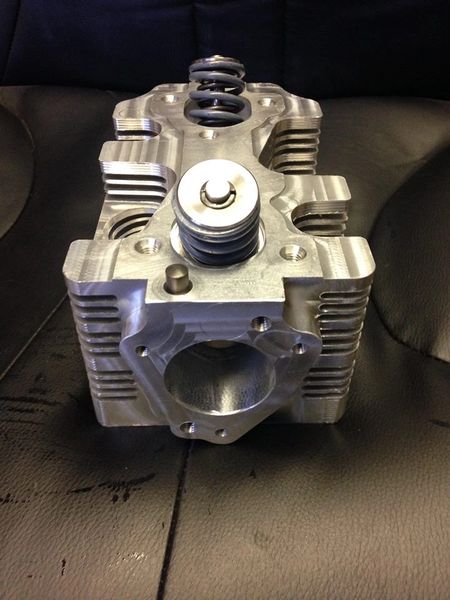 Engine Components-911/964/993 Billet Aluminum Heads 1978-98
Our Werks911 heads are made from billet of 6061 aluminum. In contrast with the aluminum castings used by Porsche, the billet has no porosity, is stronger, and has much more even cooling. This means that head flex, cracking, and hot and cold spots are a thing of the past.Our heads will pull maximum power out of your air-cooled Porsche engine. Test show a gain as high as 30% over stock head performance.
The billet heads are machined on a four-axis computer numerical controlled (CNC) mill. This makes it possible to manufacture heads that are virtually identical to one another, a big difference from the Porsche heads. In fact, Porsche factory heads are almost as different as fingerprints. Valve angle, spark plug angle, spark plug index, and other important aspects of the heads fluctuated so greatly from head to head this is no longer the case with our billet heads. Our heads were developed to have perfect air flow on both intake and exhaust ports. The heads flow more air at a higher velocity than Andial Porsche's hottest race head.
The heads are available in 3.0L ,3.2L and 3.6L for air-cooled Porsche engines. The come bare, with stock valves and with titanium valves. Choose proper size , desired valve set up and number of spark plug holes (single plug or dual plug).
*Price For One Billet Head (6 needed for 1 engine)