Seats-Sparco Racing Drivers Seat / Competion Series Circuit QRT Black (Mounting Base Included as an option)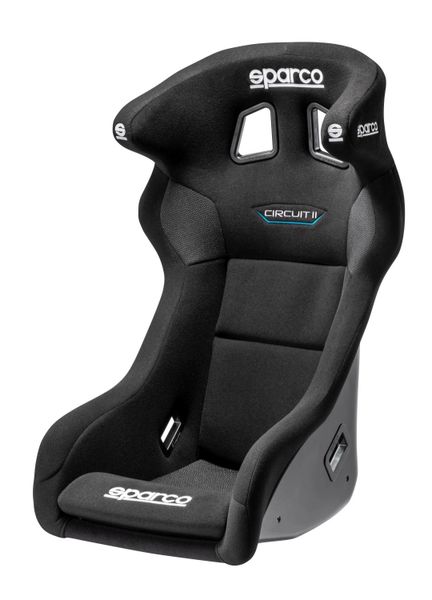 Seats-Sparco Racing Drivers Seat / Competion Series Circuit QRT Black (Mounting Base Included as an option)
 The CircuitQRT is a mid-priced high quality race only seat that should not be used in a car that is used on the street also because it limits your peripheral vision  .The Circuit QRT II  is a wider version of the Circuit both of which are constructed to be an ultra-light competition seats specifically designed for circuit use. Made from aramadic fibers-reinforced fiberglass, the Circuit QRT Series  has an ultra-light shell that includes integrated bolsters to protect the head and a unique seat design that helps separate the driver's leg. This seat can be used with a Hans device for even greater protection. The ultra-light shell is then wrapped in an impact-absorbing and fire retardant fabric that helps hold the body in place on the track. The Circuit Series is FIA approved. Weight-23-24lbs  Color-Black. Circuit width at base - 15.5" width at widest point 23"  . Circuit II 16.3" at base width at widest Point 23.4"  . Optional mount sold separate but offered here in the listing.

QRT TECHNOLOGY
QRT Technology gives an unparalleled mechanical strength/weight ratio for fiberglass composite racing seats. QRT Technology gives an average weight savings of 30% when compared to standard fiberglass technology. The main benefit is that QRT seats approach weight of carbon fiber seat at the price of a fiberglass composite seat.

TECHNOLOGY
QRT Technology – 30% Weight savings
Made for large size driver
Ultra-light aramadic fibers-reinforced fiberglass shell
Integrated head bolsters for greater safety
Hans device compatible
Fire retardant fabric
FIA approved    
*** OPTIONAL MOUNTING KIT IS LISTED.