Exhaust-997.2 Performance Mufflers with Quad Round Tips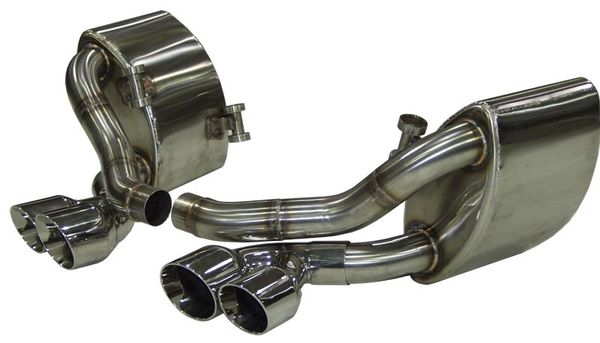 Exhaust-997.2 Performance Mufflers with Quad Round Tips
Billy Boat Performance Exhaust high performance stainless steel exhaust components for the 2009 and up Porsche 997/997S will enhance the driving experience of your Porsche. The mufflers are designed to be used with the stock exhaust tips or you can get a more distinctive look with B&B's quad round double wall tips. For a sportier note the design team at B&B also developed a set of primary muffler bypass pipes that will not only increase the sound they also give you added performance over the mufflers alone. New for 2010 the mufflers and pipes come standard in a SATIN finish while the optional tips are polished to a mirror like finish. All of these components have no effect on the factory warranty or emissions.
Precision crafted using 100% T-304 stainless steel and mandrel bending, this exhaust system is manufactured as a direct bolt-on replacement for the factory system. By utilizing the factory mounting locations this system requires absolutely no cutting, welding, or modifications for installation. All Billy Boat Performance Exhaust systems for the Porsche 997.2 come complete with mounting hardware and are direct replacement for stock exhaust systems. Attention to detail in manufacturing means easy installation. No machining. No down time. Just a faster, better sounding, better looking Porsche right out of the box. Guaranteed for life against corrosion, rust or burn through and two years for materials and workmanship.
The Benefits of the new PRT Sport Exhaust for the Porsche 997.2
Billy Boat Performance Exhaust line of performance exhaust for the Porsche 997.2 incorporates the latest in resonance control technology, B&B's proprietary Purge Resonance Technology or PRT as it is known. Completely reengineered the PRT system allows you to have a mild exhaust note at cruising speeds yet a forceful note on aggressive driving. The complex yet simple design gives you the increased sound and performance you are looking for with its straight through design on moderate to hard acceleration and then the unique purge chambers cancel out the unwanted interior noise during low rpm cruising speeds.
Porsche 997.2 Exhaust System Features
* CNC mandrel bent T304 stainless steel tubing throughout entire system
* Hand fabricated T304 stainless steel mufflers incorporating B&B's Purge Resonance Technology (PRT)
* Avaialbe with OE tips or round double wall tips enhance the cars appearance
* Mufflers are a new "satin" finsh, and tips are fully polished to a mirror like finish
* Performance increases of 32HP and 36Ft-Lbs with mufflers and Bypass Pipes
* Straight forward installation, no welding required, includes all mounting components.