Exhaust-991 Carrera Maxflo Performance Side Exhaust System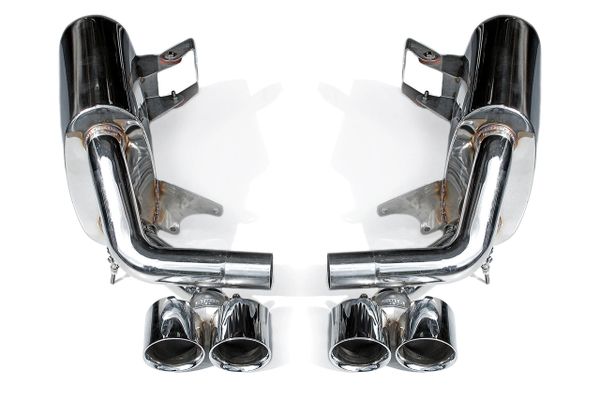 Exhaust-991 Carrera Maxflo Performance Side Exhaust System
Increase power and save weight with a throatier and deeper exhaust note throughout the RPM range; available with Black Chrome or Polished Deluxe Quad-Style Tips                          
The 991 Carrera Maxflo Performance Side Exhaust replaces the factory side mufflers, improving the exhaust flow and the overall power while providing a deap and throaty sports car sound.  This system can be used with the OEM outlet tips, or can be upgraded to include Deluxe Quad-Style Tips in either Black Chrome or Polished finish.
Fabspeed recommends using these Side Mufflers in conjunction with a Center Muffler Bypass X-Pipe for non-PSE equipped cars. There is not a significant sound advantage to using these Side Mufflers alone in conjunction with the factory non-PSE center muffler.
FEATURES:
Fits all Porsche 991 Carrera vehicles (2012+)
Designed to be compatible with factory/OEM headers and center muffler (NOTE: Please call/contact us if you're interested in combining this system with additional Fabspeed exhaust components.)
Saves 1 lb versus the factory components
Improves sports car sound and power throughout the RPM range; 15 whp and 11 ft-lbs of torque
Constructed from high-quality 14-16 gauge C.N.C. mandrel-bent T304L stainless steel for optimum flow and maximum durability
Direct bolt-on replacements for the factory side mufflers
Compatible with Deluxe Quad-Style Tips in Polished or Black Chrome finish for most models); also compatible with OEM tips
MUST Choose an Exhaust Tip Option from appropriate model and also check box "Not My Car from the other option box.