Body Components-964 Removable Hardtop For Speedster 1993-94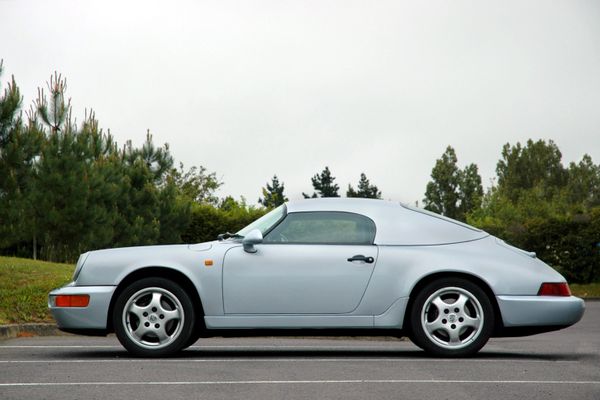 Body Components-964 Removable Hardtop For Speedster 1993-94
Werks911 Removable Hardtop  For the look of a coupe and the fair weather fun of a Cabriolet, this removable hardtop is just what you need.This top is an exact copy of the coupe roof .They are available in both fiberglass and carbon fiber. Each top comes with standard features including rear heated tinted safety glass,sound and thermal insulated roof liner, an integrated safety roll bar,window seal kit (OEM),and interior cover caps .Comes in a black primer finish only. The craftsmanship is OEM quality. Choose option for construction material -Fiberglass(GFK) or Carbon Fiber.*** Original soft top needs to be removed before installation.

 GFK "Glass Fiber Komposite" is a mix of fiberglass and ABS plastic created by the Germans to add flexibility and reduce weight.
* This top is for 964 Speedster- 1993-94
**NEW- FREE SHIPPING TO THE USA-All orders for (Werks911) body components are shipped from our European manufacture direct to the customers . Due to the fact that our customers are located all over the world, all shipping prices are only a close estimate. Before any order of body components is shipped, an exact shipping quote will be sent to the customer, along with a refund for any excessive shipping cost charged in the order (happens especially with multiple parts). Rarely additional shipping cost is required ,if so, the customer will be notified of the amount and given simple directions on how to make payment. If the customer prefers to cancel the order then a complete refund will be made promptly. We are sorry for any inconvenience this may cause, but we are customers also , want to ship worldwide, and keep shipping charges as fair as possible. This method ,although more labor intensive, makes the shipping cost the exact amount and really benefits the customer on multiple part orders.
*All prices are subject to change and are impossible to be exact because the Euro and US Dollar values are in constant flux. There maybe either a partial refund or additional funds required to complete the transaction . If more funds are needed the customer will notified and given the option of a complete refund before parts are shipped from France. 
   ***      ALL ORDERS ARE REVIEWED BY OUR SALES MANAGER BEFORE BEING SHIPPED TO CHECK FOR CORRECT SHIPPING COST AND CUSTOMERS WILL EITHER GET A PARTIAL REFUND OR NOTIFIED THAT THE COST WAS NO LONGER CORRECT AND MAY REQUEST ADDITIONAL FUNDS OR THE OPTION OF A REFUND . MULTI-PART ORDERS MAY END UP WITH A MAJOR REFUND FOR EXCESS SHIPPING.WE ARE ALSO CUSTOMERS AND HATE PAYING TOO MUCH FOR SHIPPING.***